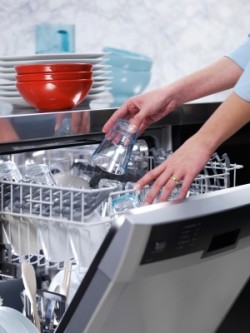 If you're living with a broken dishwasher, your daily routine can quickly become more complicated and frustrating. After all, you won't be able to just rinse dishes after meals and stick them in the dishwasher to become clean and sanitized—you'll have to wash all of those dishes by hand yourself. Get your time and your comfort back by contacting the dishwasher repair specialists at Ultimate Service Appliance & Electric, Chattanooga's source for fast and reliable appliance services. We'll handle your dishwasher repairs promptly and properly, so you can get back to enjoying the mealtime routine. Call or e-mail us today to learn more!
There are a variety of issues that can strike residential dishwashers, including:
Leaks
Unpleasant odors
Failure to fill
Failure to drain
Failure to get dishes clean at all
When you call Ultimate Service Appliance & Electric, you can count on us to respond quickly to schedule an appointment that works for you. We'll show up on time to start your dishwashers repair, and we'll work efficiently to diagnose the root cause of the problems you're having. Then, we'll take immediate and effective steps to give you the dishwasher repairs you need. Our top priorities are quality workmanship and quick turnaround times, so you can be sure you'll have a good experience working with us.
Dishwasher Repair for Most Brands
Do you need dishwasher rack repair for a Maytag appliance or door gasket replacement for a KitchenAid unit? Ultimate Service Appliance & Electric has you covered. Call us for Bosch dishwasher repair, GE dishwasher repair, Maytag dishwasher repair, or KitchenAid dishwasher repair, as well as repairs for most other brands and models. We know what differentiates certain makes from one another, and we'll aim to personalize our repair services to your specific unit's needs.
Contact Ultimate Service Appliance & Electric today to get more information about our services, from dishwasher rack repair to complete replacement of the heating element and beyond. We're licensed, bonded, and insured for dishwasher repair in residential settings, and we stand behind our technicians' work with a warranty that covers our labor for 30 days and the parts we install for 2 years. Whether you call us about Maytag dishwasher repair or GE dishwasher repair, you can expect service that means business, because we care about your satisfaction. Offering excellent dishwasher repair in Chattanooga at some of the lowest prices around, Ultimate Service Appliance & Electric is the company to trust!