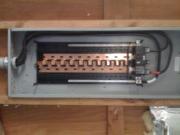 Is your home struggling with basic electrical functions? Are you perpetually worried that your breaker could trip at any moment? If you're enduring any such electrical problems, call Ultimate Service Appliance & Electric for a routine service upgrade. An electric upgrade is necessary when your house's original breaker panels are outdated or too small for your day-to-day needs. This is often the case with older homes that aren't equipped to accommodate today's incessant energy demands. When you need to operate kitchen appliances, air conditioners, and computers all at once, electrical upgrades are the only solution. To optimize the performance of your appliances and your household's overall functionality, contact the expert electricians at Ultimate Service Appliance & Electric for an electric service upgrade today.
Homeowners often don't recognize the need for a service upgrade until the situation is dire. At Ultimate Service Appliance & Electric, we believe that you shouldn't have to wait until your power goes out to get the electric upgrade you've been needing. Old panels and wiring overload easily, creating hazardous conditions, while state-of-the-art appliances will run very ineffectively on an old electrical panel. So if you live in an older home, be aware of symptoms that might indicate the need or electrical service upgrades. Signs that your home might require an electrical upgrade include:
Flickering lights
Breakers that trip often
Frequent blown fuses
Inefficient or ineffective appliances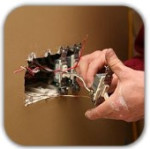 If these events occur frequently in your home it's time to schedule your service upgrade from Ultimate Service Appliance & Electric. We have several years of experience under our belts and perform each panel upgrade with total accuracy and efficiency. In fact, we're proud to offer some of the best turnaround times in Chattanooga! Our technicians are familiar with every aspect of electric panel upgrade work, and they'll deliver reliable energy re-distribution in a timely fashion. Not only do we upgrade the electrical panel, but we can also assess the meter socket and wiring for needed updates as well. Panel upgrades are a complicated, involved process, but the experts at Ultimate Service Appliance & Electric are more than equipped to handle them. Get the job done right with our professional electricians!
If you're sick of running your household on an unreliable, insufficient power supply, it's time to consider a service upgrade from Ultimate Service Appliance & Electric. Contact us today for more information.