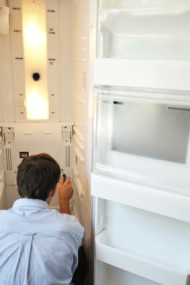 Are you dealing with a refrigerator that's leaking, failing to keep your food cold and fresh, or giving all of your food frostbite? It's time to call Ultimate Service Appliance & Electric. We're Chattanooga's answer to your refrigerator repair problems, bringing together quality workmanship with quick turnarounds and competitive rates. Our residential refrigeration repair technicians are more than qualified to tackle whatever issues your fridge is facing. Call now to book your appointment for refrigerator repairs!
Not even top-of-the-line refrigerators are completely immune to malfunctions. From leaks to too-frequent cycling to uneven or ineffective cooling, there are dozens of reasons you might seek professional refrigerators repair. When you hire Ultimate Service Appliance & Electric, you can feel confident in getting a refridgerator repair technician who is familiar with most major brands and models and who can quickly assess your fridge and come up with a plan of action for repairs. Depending on your specific problem, the answer might be to repair or replace your unit's:
Evaporator fan
Condenser fan
Thermostat
Door seals
Door switch
Defrost timer
Coolant
Compressor
In our three years of providing quality refrigerator repairs, we've seen just about every issue that can plague a residential fridge. We'll call on our experience and the knowledge we've accumulated on the job to give you fast and reliable refrigerator repair service. Whether you need GE refrigerator repair, Maytag refrigerator repair, or repairs for another brand, our technicians will provide you with accurate and effective solutions. We want to be Chattanooga's only source for residential refrigerator repair, which is why we strive to offer some of the best service in the area.
Licensed & Insured for Refrigeration Repair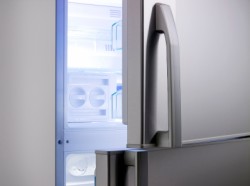 One of the characteristics that separates us from other refrigerators repair companies in the area is that we're fully licensed, bonded, and insured for the services we offer. For your added security and peace of mind, we're also EPA certified to handle refrigerants. When you call Ultimate Service Appliance & Electric to discuss refridgerator repair, you can be sure your needs will be met promptly, properly, and safely.
Get more information about our refrigerator repair service offerings by contacting us today via phone or e-mail. We'll be out to your property as soon as we can to start the repair process. And don't forget that Ultimate Service Appliance & Electric also offers appliance installation. If you're the proud owner of a new fridge and want to be sure it's set up properly, give us a call! We'll give you our best, whatever you need.